Jonah In the Whale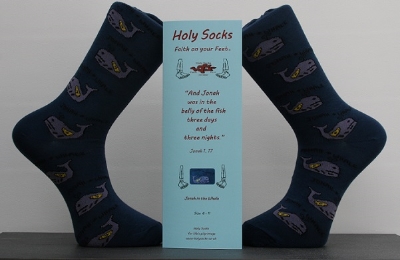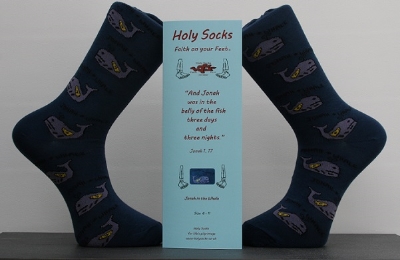 Jonah In the Whale
"And Jonah was in the belly of the fish three days and three nights."
Jonah 1, 17
Size 6 - 11 Navy. £6.50
Size 4 - 7 Light blue £6.50
Story: The Whale eavesdrops on the conversation between God and Jonah.
This is one of the original half dozen designs which Holy Socks began with in 2000.
These Holy Socks are made in 75% cotton, 23% nylon, 2% elastane/lycra.
Prefer to place your order by phone? Call us on 01671 404043 or mobile 079 1818 4539.
Jonah in the Whale was on the six original designs which were produced for the beginning of Holy Socks in 2000. 
The story began life as a lead meditation for a Retreat Around Jonah which didn't really get anywhere.  Laughter is great but not out loud in the middle of a meditation!  God wastes nothing however and the beginnings of that exercise became the basis of the story for our Jonah sock design.  It's been edited from time to time and below is the start of the current version.
The Whale's Tale
"Hello, have we met before? You may have heard about me swallowing Jonah and God having a wee word with him in my stomach. He was there for three days and three nights and I have a bit of a confession to make.  I don't make a habit of it and I don't recommend that you do it at all, but I really did wonder what God was saying to him so I listened in a bit. Told you it was a confession. Like to hear what God said to him? Well the conversation went something like this....."