Pharaoh's Dream Cows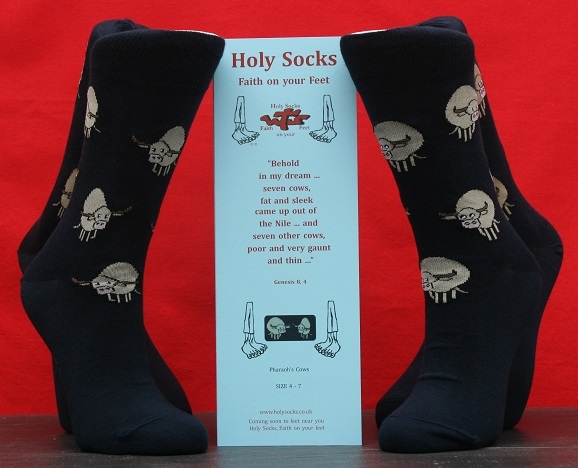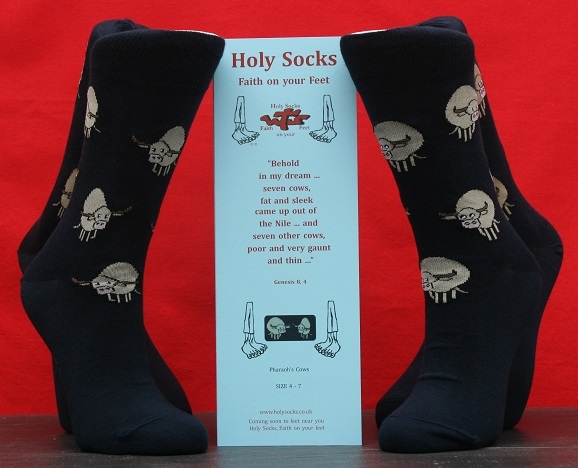 Pharaoh's Dream Cows
"Behold in my dream... seven cows, fat and sleek came up out of the Nile ... and seven other cows, poor and very gaunt and thin .."
Genesis 41, 17 - 19
Story: The Fat and Thin cows are about to appear in Pharaoh's dream. The fat and thin cows discuss what the dream is all about and one cow discovers he's about to get eaten!
With seven "fat cows" on one sock and seven "thin cows" on the other, this is the original "not a pair of socks" design.
Size 6-11 Purple £6.50 (photos to follow)
Size 4-7: Navy £6.50
Size 4-7: Purple £6.50
Size 12 1/2 - 3 1/2 Navy £4.95
These Holy Socks are made in the UK in 75% cotton, 23% nylon, 2% elastane/lycra.
Prefer to place your order by phone? Call us on 01671 404043 or mobile 079 1818 4539.